Renewable Natural Resources Foundation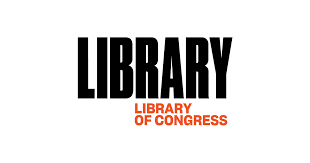 Renewable Resources Journal Selected by Library of Congress for Inclusion in "Digital Collections"
The United States Library of Congress has selected Renewable Resources Journal for inclusion in the Library's collection of digital materials. "We believe this publication is an important and valuable addition to our collections and to the historical record. The Library of Congress preserves cultural artifacts and provides enduring access to them in order to serve the needs of Congress and to support education and the creation of new scholarship. The Library's traditional functions of acquiring, cataloging, preserving, and serving collection materials of historical importance extend to digital materials." For more information about the Library of Congress's digital collections, please visit its website https://www.loc.gov/collections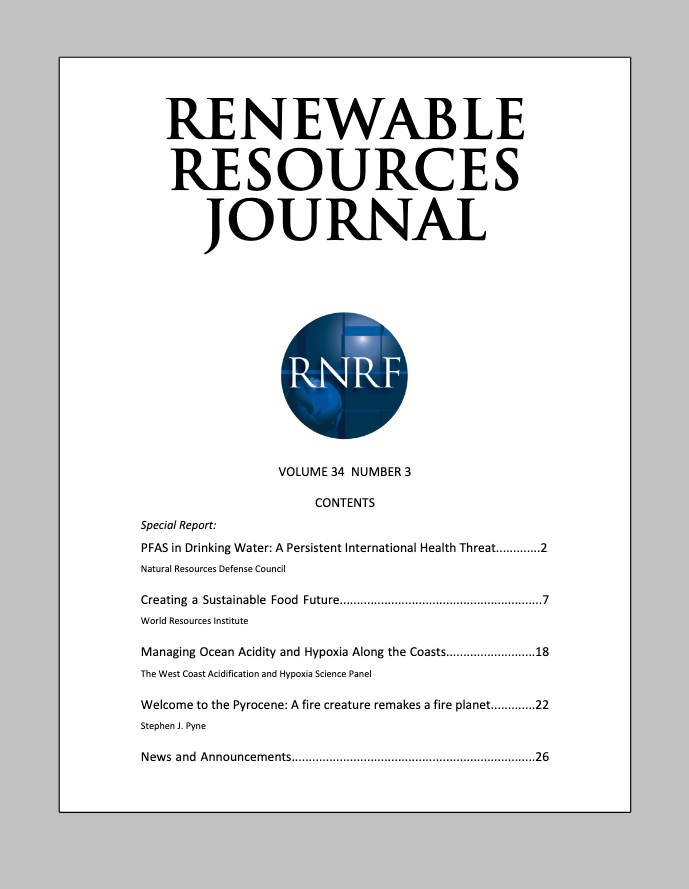 LATEST ISSUE - Renewable Resources Journal
PFAS in Drinking Water, Creating a Sustainable Food Future, Managing Ocean Acidity and Hypoxia, and the Pyrocene - Free download click here.
American Geophysical Union
The Future Needs Science. The U.S. Elections Need You
American Geophysical Union recently launched the Science Votes the Future campaign to increase science in the U.S. 2020 election cycle. The initiative aims to promote candidates to speak up about science and encourage scientists to vote in upcoming elections. The campaign toolbox includes talking points on key science issues such as climate change, health, natural hazards and STEM education as well as a 2020 Vote Pledge.
The campaign's goal is to make sharing scientific information with candidates easier and to facilitate engagement between candidates and their local communities. AGU believes it is essential for candidates at every level of government to include science as an integral part of their platforms.
With this effort, AGU hopes to increase the voter turnout of scientists and STEM students to vote in the 2020 elections.
For more information, click here.
Read more on RNRF's news page here.
Renewable Resources Report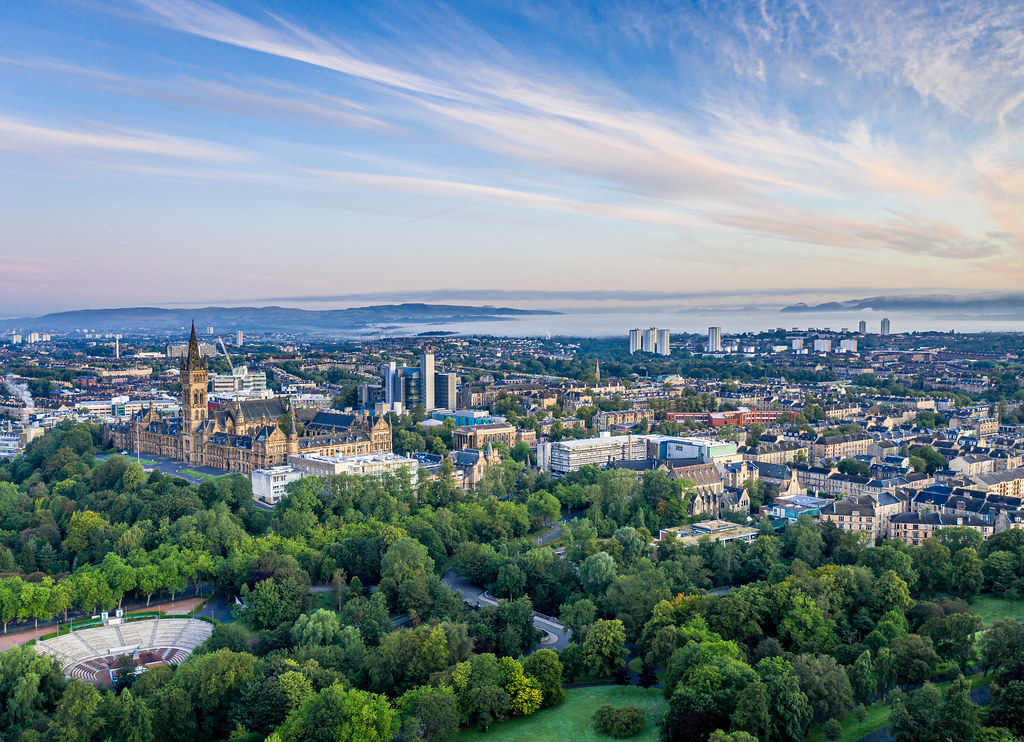 Glasgow, Scotland, the site of COP26
The 2020 United Nations Climate Change Conference, also known as COP26, was originally scheduled to be hosted by the United Kingdom in Glasgow, Scotland from the 9th to 20th of November, 2020. This was supposed to be the first "global stocktake" on the progress of the Paris Agreement's implementation, an important step in the timeline of global climate action and the first meeting where nations were expected to submit enhanced Nationally Determined Contributions. On April 1, 2020, it was announced that the conference would be postponed until 2021 due to the COVID-19 pandemic. It was later revealed that it will be delayed a full year, and will now take place from the 1st to 12th of November, 2021.
The 2020 meeting would have been an opportunity to revisit failed negotiations from the previous year, as well as for countries to increase their commitments under the agreement. Its delay is a setback for climate diplomacy. However, UN leadership is framing the crisis as an opportunity. UN Climate Change Executive Secretary Patricia Espinosa said that nations will have the chance to "recover better, to include the most vulnerable in those plans, and a chance to shape the 21st century economy in ways that are clean, green, healthy, just, safe, and more resilient."
Before the postponement of COP26, the UK presidency was experiencing problems finding a public official to act as president of the conference. Former UK Minister for Energy and Clean Growth Claire Perry O'Neil was the original appointee for the position, but was abruptly removed on January 31, 2020, stating that the position would become a "ministerial role." After other officials including former Prime Minister David Cameron and former Foreign Secretary William Hague turned down the role, it was announced that it would be filled by conservative minister Alok Sharma. While some criticized Sharma's record on environmental issues, the stability of having a president in place for the meeting was welcome.
Read more on RNRF's blog, the Renewable Resources Report, by clicking here.
My Written Testimony on Transportation Infrastructure and Climate Change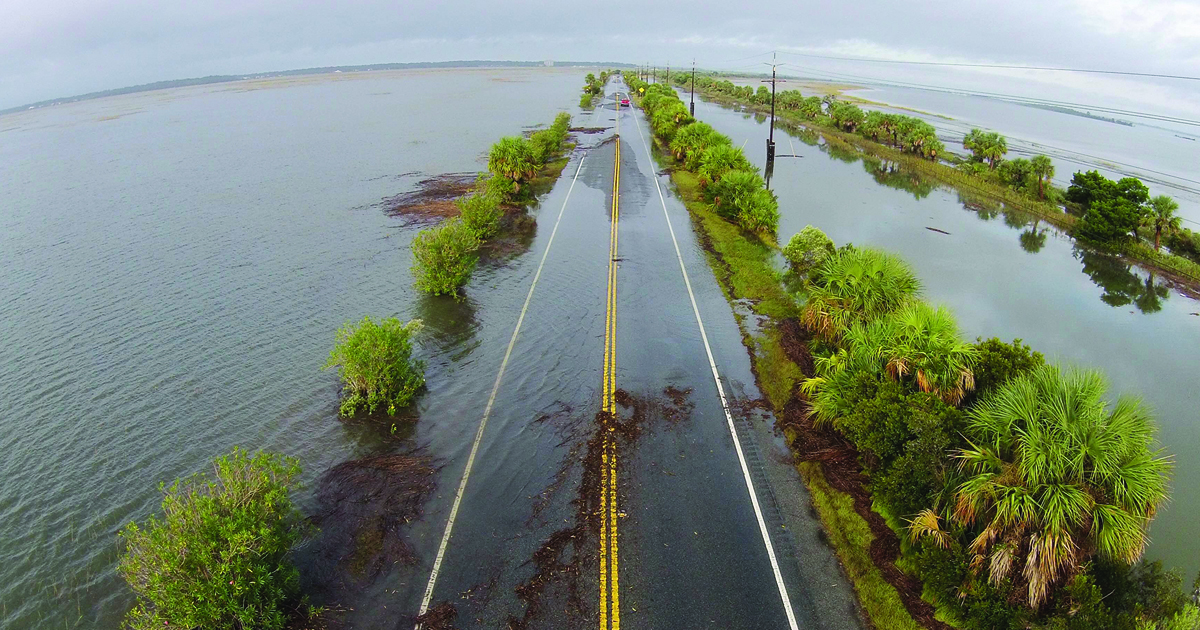 By Kristy Dahl, Senior Climate Scientist at the Union of Concerned Scientists
In May of 2019, I had the opportunity to provide written testimony to the House Science, Space and Technology Committee's hearing on "The Need for Resilience: Preparing America's Transportation Infrastructure for Climate Change." I focused on how the many impacts of climate change—from increasingly frequent heat waves to rising seas—stand to affect the transportation infrastructure we all depend on and outlined a set of solutions that could limit future disruptions to the system.
I have adapted my testimony for this post, but you can read the full testimony here.
Introduction
I am a senior climate scientist at the Union of Concerned Scientists. I appreciate the opportunity to provide testimony as you examine the intersection of climate change and transportation infrastructure, as my research has shown that road and rail systems along our coasts are at risk of chronic high tide flooding in the coming decades as sea level rises.
Climate impacts on infrastructure
Our nation's infrastructure is already in a precarious state, consistently earning a near-failing grade of D-plus from the American Society of Civil Engineers (ASCE). Much of our infrastructure was built assuming past climate and usage patterns, with some margin of safety, which has led the ASCE to estimate that there is $1.2 trillion gap between our current transportation infrastructure and our actual needs.
Now climate change is adding an extra layer of risk.
The impacts of climate change are already upon us—in the form of longer wildfire seasons, stronger storms, worsening droughts, and flooding exacerbated by rising seas and heavy precipitation.
Climate-related extreme events are already exposing vulnerabilities in our infrastructure, and growing development in high-risk areas increases the potential damage. The number of billion-dollar weather and climate-related disasters is on the rise: compared to the long-term average, each of the past three years has produced more than twice the number of billion-dollar disasters in the United States.
Read the full story on RNRF's blog, the Renewable Resources Report, by clicking here.